Inversion Table Home Care For Lower Back Pain
posted: Jan. 21, 2019.
Inversion Table For Back Pain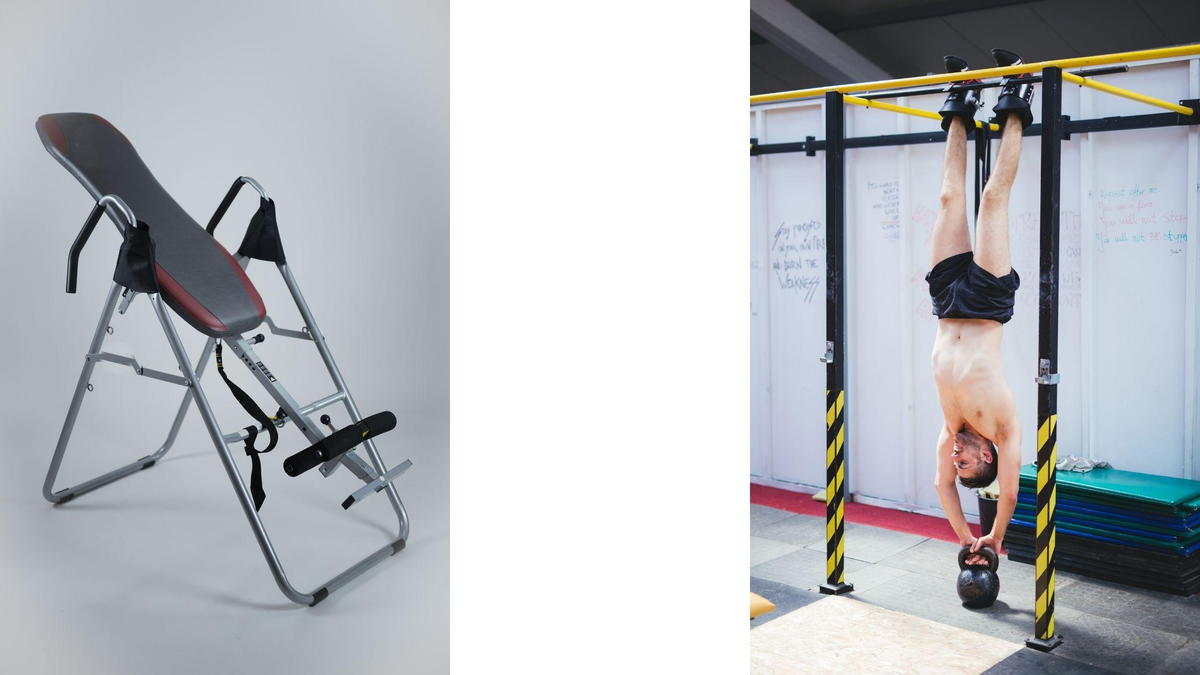 Inversion Therapy for lower back pain- Is it healthy or not!?

We frequently have patients ask about home therapies for their back pain or share their experiences with home therapies. One topic that comes up frequently is inversion table therapy for lower back pain. There are some patients that come to Gallatin Valley Chiropractic that tell us how great inversion therapy has worked for them, but also people that tell us about their experience with inversion therapy did not work, worsened symptoms or they did not like it because it caused "all the blood to rush to their head."
The intention behind inversion table treatment is to provide traction through the spine that opens joints and disc spaces. Inversion treatment, as the name suggests, puts the patient in an upside down, or partially upside down position; most inversion tables have the option to be inverted at lower angles than fully inverted. In all research trials found, except for one published in 1985, inversion table therapy showed significant increases in blood pressure and cardiovascular risk. Similar to inversion therapy, mechanical traction used in many chiropractic and physical therapy clinics provides a similar intention of creating space in the joints and discs of the spine while keeping the patients in a neutral, horizontal position, avoiding the cardiovascular risk and head full of blood sensation.
Research on the topic of inversion therapy is scant but there is some research that shows mild increases in joint space following inversion table treatment but the gains made are not sustained for any significant length of time. In controlled trials for inversion tables, there are few statistically relevant positive results; however, there is one small trial that showed very encouraging results. It was published in 2012 and examined patients that had MRI confirmed lumbar disc herniations that were awaiting surgery. In this trial, patients were assigned to physical therapy or physical therapy + inversion table therapy for a 6 weeks while waiting for surgery. The study considered a positive result as a lack of need for surgery following intervention. The study found that 77% of patients that received inversion table treatment no longer needed surgery after 6 weeks while only 22% of patients that received physical therapy alone were able to avoid surgery.
Considering what is available in research and what our patients report, your doctors at Gallatin Valley Chiropractic recommend  intersegmental mechanical traction therapy for disc and arthritis conditions as a primary treatment, but if you do not have access to that then inversion therapy might be a viable option. Significant caution is advised if considering using inversion tables with the recommendation of starting in a position that is not fully inverted, maybe only 15 degrees of inversion especially when starting out.
Recommended Inversion Table Amazon Link
Above is a link to an inversion table on Amazon that is a quality product and has worked well for our patients:
If you have questions regarding a home therapy or treatment for a condition, feel free to talk to your doctor at Gallatin Valley Chiropractic.   
406-551-2177
Tags: Bozeman,&nbsp Bozeman,&nbsp chiropractic,&nbsp chiropractic,&nbsp inversion table,&nbsp inversion table,&nbsp inversion therapy,&nbsp inversion therapy,&nbsp traction,&nbsp traction,&nbsp disc herniation,&nbsp disc herniation,&nbsp Back Pain,&nbsp Inversion Table Lower Back Pain lower,&nbsp Inversion,&nbsp Table,&nbsp Lower