Anti Inflammatory Dieting - a satisfying and sustainable way to eat.
posted: Apr 02, 2019.
Diet. There is a lot of conflicting information and advice on what we should eat. Intermittent fasting, Keto, Paleo, Low carb, high carb, non fat, Atkins. All are labels thrown out to try and categorize and (quite honestly....) sell various diets to those looking to eat healthier, and lose body fat.
In the Chiropractic office setting, we manage inflammatory conditions daily.  Eating anti-inflammatory foods can help mitigate the body's reaction to injury and stress, by lowering the number and volume of compounds that the body uses to create inflammation.  These changes made internally, really support the manual therapies we do here in clinic, and help our patients heal more completely, and permanently.
Since there's a lot of confusing info on diets out there we're going to break down the better way to eat very simply: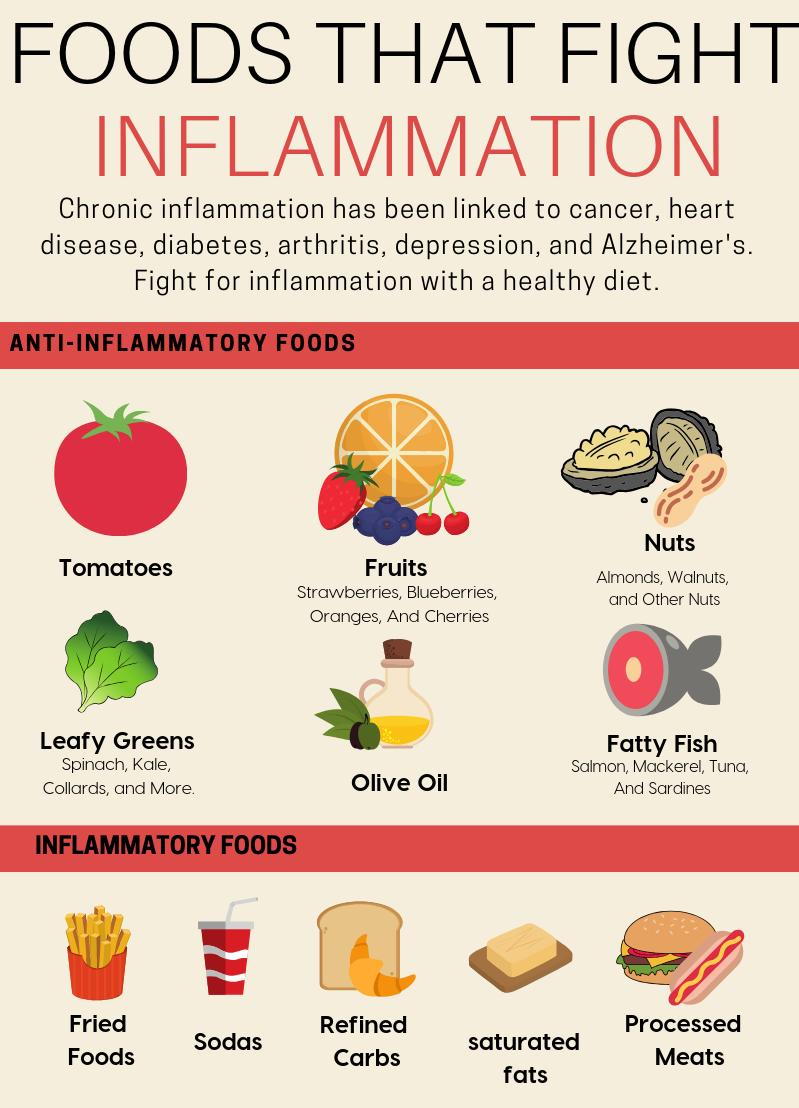 Don't eat fluffy, white, processed carbohydrates
Don't drink your carbohydrates – soda, alcohol
Eat more fiber - a lot of vegetables
Where is your fat coming from?
If it's coming from animal sources mostly, unless it's grass-fed, it's not a good choice.
If it's being used to fry fluffy white carbohydrates, it's a bad choice
Here are some basic principles on what the three basic macro nutrients are:
Carbohydrates:

Commonly used as energy by the body
Can be a source of increased body fat when eaten in improper proportion
best sources for your body are those which contain a large amount of fiber

Fats

Omega 3's are essential!
Vegetable and free range fed animal sources are best

Protein

Essential for tissue recovery

Lean meats and protein rich vegetables, nuts and seeds are great sources

See? Easy. If you've got a clear picture of what your grocery list should look like based on these principals, you're done. Go back to scrolling through Facebook.
If you need help coming up with a grocery list, here is a good list to work from:
Protien

Fats

Carbohydrates

 


 

Wild caught fish

Ghee (clarified butter)

Sweet potatoes

Grass fed beef

Olive oil

Quinoa

Free range chicken

Avocado oil

Rice – mixed, wild, or brown

Walnuts

Chia seeds

Fruit  

Pecans  

Coconuts, coconut oil

Leafy vegetables

Pistachios

Salmon

Bell peppers

Pumpkin seeds

Fish oil

Tomatoes  

Almonds

Flax seeds

Legumes  
This is by no means an exhaustive list, but in varying combinations, these items on your grocery list can get you a great start! We have helped many patients get started on improving their diet, which has made our jobs as chiropractors more effective. For those with more involved dietary questions and needs, we are proud to have certified nutrition professionals to whom we refer.